Business Networking For Women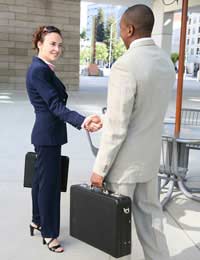 Some people might well wonder why women might need their own separate business networks. After all, aren't they a part of the workforce like everyone else? They are indeed, but women have to contend with a number of problems that men don't have to deal with, so having other women who can help, whether it's mentoring, to talk to, or use as contacts can be extremely useful.
The Problems
One of the biggest problems facing women in business is inequality – the glass ceiling, as it's generally known. Women might comprise almost half the workforce, but they don't rise to management positions or even higher in the same proportion; the gender gap is very much alive and well in business.
For many women, lower or middle management is the highest they can expect to achieve, perhaps because there's an assumption they'll leave to have and raise a family, and be lost to the company (although generally that's not the case these days).
That feeds into the other main problem for women – trying to juggle the demands of having both a career and a family. The higher the position achieved, the more work and hours are usually involved, which have to be balanced with the needs of a husband and children (although no one seems to say much about similar demands on men).
In other words, women aren't given the same opportunities as men, in many cases. It's not too surprising, therefore, that they want to learn from women who have made it to the top, and also to share information and more with other women who are in the same position.
What Female Networks Can Achieve
Women who network with other women in business can help each other come a little closer to achieving parity. Together women can plan strategies for business, hear about jobs in other companies, be introduced to women working elsewhere as well as make useful contacts for sales. If there's an old boys' network at the top of industry – and there most certainly is – then why not a girls' network, too?
The networks can be regional, or sometimes possibly industry-specific, or even go across industries. In large companies there might even be an internal network for women. But although they might prove helpful in terms of sales, that's far from being the reason of their existence.
The networks are there to offer a forum for women. They're places where they can discuss problems and aspirations without feeling constricted by a male presence. But even more than that, they give everyone a chance to participate and learn from the mistakes others have made – something you generally won't find among males.
Some women will belong to several different networks and get different things from each one. Some might be useful for career advancement in an industry or an area, for instance. Networks within a company can serve a very positive purpose too, identifying and developing female talent (and well as offering a mentoring situation with some senior female executives).
Do They Work?
A company with a women's network can use it as a recruiting tool, especially if women have climbed the corporate ladder because of it. External networks have proved very successful, too, not only in terms of doing business and filling vacancies, but also by giving women the chance to discuss problems without seeming week, and benefiting from the advice and experience of others.
You might also like...