Holding a Networking Seminar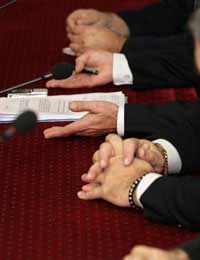 You attend networking seminars and you believe that networking is important to business. But have you ever considered holding your own networking seminar? It might seem like a strange idea, since there are so many around, but it might well have some merit.
You may feel that the seminars around simply aren't offering enough, or you want something that will draw in more people, or possibly expand the usual circle who attend. That, of course, benefits everyone, and if no one else is doing it, why not you?
The Basics of a Seminar
Yes, it costs a little money to hold a networking seminar, but you might well be able to persuade your company to foot part of the bill in return for their name featuring prominently, and then there's the business community, as well as government agencies, both local and regional, that might be willing to partner on the event.
What do you need? The first thing is a venue, somewhere quiet, with adequate space for both sitting and standing. Hotel conference rooms often make excellent venues; there's ample space, and refreshments can be in the room, or even some basic catering, for an extra fee. The event can even take place after an optional lunch for attendees.
It's helpful to have a good speaker to draw in a crowd. There are plenty around, and if you've been to a number of networking events you'll have heard many of them. Contact several, discuss fees and topics, as there might be something in particular you want the speaker to cover which you believe will draw people. If one person isn't well-versed in that area, he or she might be able to suggest someone else.
Having fixed those two, the next item is letting people know the event is happening. Using e-mail is a good start, as is posting news of the event on forums and websites that cover business and networking in your area. You're essentially acting as the promoter of the event, so it's in your interests to cover as many bases as possible to let people know of the event's existence.
You can ask people to contact you directly to reserve a seat. That will let you know in advance how many are coming, although inevitably a few won't show and others will simply turn up on the day. If you're going to charge for attendance then keep the fee as low as possible, just enough to cover costs; this isn't about making a profit.
The Day of the Seminar
You'll need to be at the venue early in order to make sure everything is in order, and to cope with the last-minute emergencies that are bound to occur. Be there to greet the speaker, who should arrive around an hour before the event begins to give a cushion and allow time to set up and test any necessary audio-visual aids (you should consult in advance on this with the speaker, so you can locate the needed equipment).
Be on hand to greet the guests and keep things running smoothly. The event itself is really in two parts – the speaker, then the networking. Make sure you allow ample time for the latter, which can be the bigger attraction for many people, but also know when to draw things to a close; you don't want an event that just drags on and on. Use you experience to decide on the right amount of time. Do all that, and your event should go smoothly - and you might even have networking time yourself. You might even want to hold another in the future!
You might also like...