How to Manage Your Work Relationships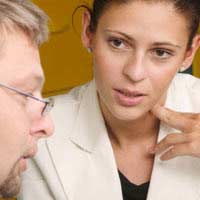 You're used to networking with peers and contacts (as well as potential contacts) outside your company, within your industry and beyond. But have you ever given much thought to your colleagues within the firm or organisation?
You probably should, since these are your core working relationships. It's rather more than the primary school ethos of "playing well with others"; good working relationships with those around you every day are what get things done and make business happen. You can network and bring in business, and work on strong bonds with customers, but if the others around you aren't pulling their weight, then the likelihood of success is quite small.
What Makes for a Good Working Relationship
People like to feel appreciated. It's a natural human tendency, but at work all too often it doesn't happen. We work hard, do our jobs to the best of our ability, put in extra hours – and rarely receive a word of praise. One of the simplest things you can do, and the most effective, is to thank people for their effort, not just on a project, but in all things, and praise them when something is good. It might not seem like much, but the long-term results can be wonderful.
A happy workplace is a productive workplace. It makes people want to come into work every day, and if they're content they'll give more of themselves. Much of the onus lies with management, at all levels, to make that happen. Casual Fridays, being understanding when people need a little time off and even providing free tea and coffee, or treating the office to pizza once in a while, really boosts morale, and the results can be reflected in the bottom line.
The workers have to feel that bosses, especially immediate managers, are on their side. There has to be good, open communication for everything to work smoothly. That applies all the way up the management chain. It can prevent little problems, which might not have been reported, becoming major incidents that require plenty of fire fighting later. As in many other aspects of life, trust is vital.
Setting Work Boundaries
Having a good atmosphere at work is ideal, but it's also necessary to have definite boundaries set. Managers and workers might be close friends outside the workplace, but within it they have to respect each others' roles. With the women on staff there can be no sexual harassment, and even innocent flirting must have limits. It's not so much about putting barriers in place as establishing respect and keeping order, and it can be done quietly, without a fuss. Once established, there should be no problem with continuity.
The tone for the workplace is always set from the top. In a large organisation the top bosses aren't going to know the name of every employee, but on visits to plants, shops, and so on, they can talk to the people who work there and establish personal contact. In a smaller company, upper management should be very visible, part of the everyday fabric of the place, and able to talk easily with everyone. It makes things go much more smoothly.
These might not seem like networking points, but at heart, that's exactly what they are. There's a network within your place of work, just as much as outside, and by working it as you would anything else, you can make work a true pleasure.
You might also like...