Using a Trade Show for Business Networking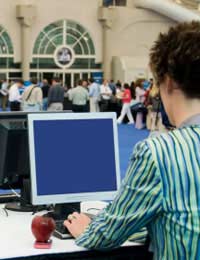 A trade show is one of the greatest networking opportunities you can have. With so many people exhibiting and – far more importantly – huge numbers visiting, it's almost impossible not to network with others. The real question is how to take the greatest advantage of the situation.
As an Exhibitor
Exhibiting at a trade show can offer excellent exposure for your company and its products or services. But it's also an expensive proposition. Not only do you have to pay to be an exhibitor, you also have to have a professional booth and display, book travel and hotels for the people working the stand, as well as the other costs that mount up.
What you have to weigh is whether the rewards might be worth the costs. A trade show can bring in a lot in orders – maybe not immediately, but over the course of several months. It's also a chance to develop relationships with other companies. But how much is that worth to you?
But then again, it might not result it plenty of orders – as everyone knows, there are no guarantees in business. So it becomes a calculated risk, too.
As a Visitor
It's much cheaper to simply be a visitor to a trade show, and a great way to meet with other companies working in the same or complementary fields (talking to them you can also gauge how useful the trade show really is before you commit to being an exhibitor). At the same time, since you don't have a display, you're limited in how effective you can be.
Before attending, take time to check the event's website and go through the list of exhibitors, noting which ones would be best to spend time talking to. In most cases the sheer size of trade shows precludes talking to many of the exhibitors, so you have to be selective.
The Advantages of a Trade Show
By exhibiting, people are able to see exactly what you do (and always make sure you have the materials on hand to offer a formal presentation to any who want it). Where you have chance, take time to talk to those who are really interested, or try to arrange a time to meet before or after exhibition hours.
Exchange business cards with people, and make notes on the back for those who seem like good prospects for further conversation – and then make sure you follow up later.
Something you might not immediately consider is the fact that a trade show exposes you to lots of other companies working in the same or similar fields. Some of them are competition, of course, but others could become partners, working in similar fields where you can help each other. Talking at trade shows is a perfect chance to begin a relationship that can grow over time. Don't look at shows simply as a way to gain new business, but also as a way to expand what you do – don't be afraid to think outside the box a little.
Making The Most of a Show
Where trade shows have workshops or presentations, offer to be a presenters or moderator – although be warned you'll need to volunteer well in advance to even be considered. It will increase the visibility not only of you, but also of your company, and a demonstration of expertise will almost certainly bring more contacts that you can follow up on later.
You might also like...