Virtual Communities & Business Networking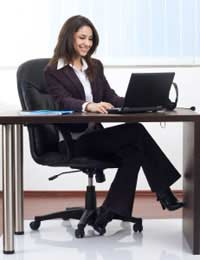 Online communities have experienced a rapid growth in popularity in the last couple of years. The spread of high-speed broadband connections has made them possible, and people use them not only for games, but also as real communities.
Although they're especially popular with individuals, a number of businesses have been quick to spot the opportunities they present, for sales, education and networking. It's something that might not seem obvious at first, but more and more companies are adopting it.
How It Works
Large companies, and even some smaller businesses, have established a corporate presence in virtual worlds such as Second Life. By doing this they open themselves up to people who might not discover them in the real world and open themselves to a lot of business possibilities.
Virtual premises can make sales of real world goods – you can have custom that might not even think of you otherwise. By having a store you have a showcase for your items or service.
In fact, the possibilities are endless. Some companies have held interviews on virtual worlds, using avatars, to fill real world positions. It might seem odd, but consider it a moment – the people attracted will have certain computer skills that might be very useful, as well as imagination and forward thinking, all qualities that are attractive to companies that are hiring.
It's also perfectly possible to host networking events in a virtual world, although the people will obviously be represented by avatars. That's different, but no better or worse than others ways of holding an event – and actually cheap and the novelty can draw in a lot of people.
The thing to remember is that, although it's still very much the early days, virtual worlds do represent the future. It's not only companies who are establishing a presence there, but also real countries – for instance, Sweden has an embassy in Second Life.
Where Can It Go?
To many, what's happened on Second Life is simply the first baby step for virtual worlds, and others – like one anticipated from Google - could be much better for business, since they will be able to bring several technologies – such as virtual worlds and smartphones - together. Already people buy rent space and build on virtual worlds (and real estate there can change hands for real world money).
There's even an Association of Virtual Worlds, helping people plan for a strong business future there (and incidentally acting as a networking tool in itself). As worlds develop, bringing in features like facial recognition and adding the possibilities or real-time talking using Voice over Internet Protocol (conversation through your broadband connection), then the possibilities continue to increase.
At this point, virtual worlds are on the cutting edge, and using them as a networking tool requires the use of imagination, as well as the willingness to spend time and a little money on establishing a presence there. Those who do so, though, find the rewards can be great, being ahead of the curve, and able to establish business relationships early with those who are already there.
It's all part of what's known as Web 2.0, the second generation of web use that's become more interactive, and can include blogs and video blogs, which can also prove very useful for business, both as publicity tools and for communication.
You might also like...