Networking for Teachers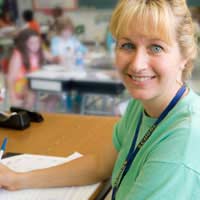 For teachers, networking is vital for professional development; giving them ideas for the classroom and to work with others. Since, as a general rule, teachers don't have access to the same type of conferences as a university faculty, they need to network in other ways.
It's one of the reasons for the INSET development days that occur throughout the school year, giving teachers pportunities to look at issues, hear from educators on ways to improve, and find out about new ideas that are being used. There are however, plenty of other avenues for teacher networking besides development days.
The Ways Teachers Can Network
The Internet offers many excellent, accessible opportunities for teacher networking. There are a number of different sites that offer information and give teachers the chance to post on forums as well as some social networking sites aimed specifically at teachers.Given the hours teachers work (it's much more than a 9-3.30 job), the Internet is perfect, since they can log in whenever they have free time and make full use of the resources available on teacher networking sites.
There are also support networks, both nationally and regionally, which can be very useful, not just professionally, but emotionally, for teaching is a very stressful profession. The teaching unions, too, are good for networking; they do far more than just represent teachers, but offer a full line of support. It's not uncommon for older teachers to act as mentors for those new to the profession - another form of networking. Within separate areas of teaching, such as science or language arts, there are also national groups that offer networking and exposure to new developments. This can be vital in subjects where things change quickly, such as in special needs teaching.
Why Teachers Should Network
Like any other profession, teaching doesn't stand still. The government seems to change its educational emphasis every year, and teachers need to be aware of that through more than official guidelines (the best ways to teach subjects, for instance). But there's also a pressing need to keep aware of developments, not merely in the subjects taught, but in educational psychology, and matters related to child development. These are incredibly important for teachers, since they can affect the way they interact with pupils.
There are also local networking events for teachers, which offer the opportunity to meet peers and colleagues from other schools. As well as being social, teachers will also get the chance to talk to other people who go through the same pressures every day. Speakers at such events can bring items of value to these occasions and exchanges in techniques and methods can help professionally.
It's certainly different from business, in as much as no one is trying to get leads or more work, but it becomes a forum for the sharing of ideas that are for the advantage of everyone. Keeping abreast of everything that's happening, as well as mutual support, are the prime necessities of teacher networking.
You might also like...