Is Student Networking Important?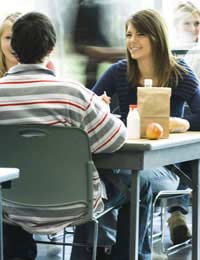 People think that the life of a student consists mostly of sleeping late, drinking, having fun…and a little time for lectures and writing essays. While there might be a certain amount of truth in this populist view, it certainly falls far short of the real picture.
University is about education, and preparing oneself for life ahead – which means for a job and a career. It can be difficult enough obtaining a good job with a basic degree, but in tough economic times, that problem is hugely compounded, as far too many graduates rush after the same few openings.
Why Should Students Network?
It doesn't matter what type of work you're looking to do after university, the more you network in your chosen field, the better it will be for you afterwards. You can never make too many contacts too early. Not only will it give you greater breadth of knowledge within the field, but it means you stand a much better chance of being able to find a job later - or even an internship that can help you get a foot in the door, giving you valuable experience and a good entry for your CV. The old saw of "it's not what you know, but who you know" can still remain true.
All these things will stand you in greater stead professionally, as well as financially; that can only be a huge plus, as there will be plenty of student loans to repay once the studying is all over. That piece of paper you get after three years isn't the end, it's actually just the beginning.
How Can Students Network?
In every university there are societies for each academic discipline; lecturers and professors will also gladly guide students who want to join professional organisations associated with relevant fields of study. These can be very worthwhile, introducing the student not only to others in academia, but also to those in business, enabling them to make contacts that can prove useful both as students and out in the real world.
Although it's unlikely that undergraduates will be able to attend conferences, being involved in organisations does mean they can keep up on the latest developments in their fields. Involvement is the key; the greater your involvement, not just in learning, but in all aspects of your subject, the more you'll know – and the more you'll be known. You don't have to be a star student to succeed, just an eager one.
It takes effort, and it takes time, but think of them as investments in your future, for that's exactly what they are. This is an instance where networking really can help you get ahead. As your degree course comes to an end, you'll have an impressive CV to help you land a good job in your field, as well as the kind of contacts who can really help. If you're planning to go on to do postgraduate work, that depth of knowledge will certainly help you land a good place for study.
Of course, getting a job isn't the true aim of networking – those run deeper – but as a side effect it can be very powerful, and long-lasting.
You might also like...