How To Recover When Business Networking Goes Wrong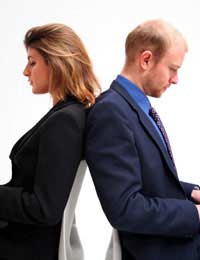 The whole idea of business networking is to extend your circle of contacts, which can, in turn, lead to more business for you and your company. Networking generally doesn't requite much in the way of skill, simply a reasonably outgoing personality, although you do acquire networking skills after you've been doing it a while.
It doesn't happen often, but sometimes the whole idea of business networking can go horribly wrong. What can you do if there's a networking disaster? How can you recover from it?
How Networking Can Go Wrong
Business networking is such a simple thing, it would seem that nothing bad could happen. But there are several possible scenarios offering the very worst.
You might insult a client, be it by accident or deliberately through frustration or for some other reason. That can create serious problems and repercussions. After all, you're not the only person to network – every company does, and word about the problem will quickly circulate.
Since service is so important, touting your company's service when you network with clients and then not being able to deliver can become a disaster of epic proportions. In that situation, word will go around faster than you can even imagine.
You might be networking and recommend someone to do a job who simply botches it. Not only does that reflect on them, but also on your own credibility for having given the recommendation in the first place. If you're that wrong, can your judgement be trusted?
How To Recover From Business Networking Disasters
Whilst there's no way to turn a networking disaster into a roaring success, it is possible to eradicate, or at least limit, the damage in many cases.
Where you've recommended a business that's botched a job for someone you know, it's worth taking the time to discover what happened, and then seeing what you can do to help put it right. Another recommendation might not be trusted (and understandably so), but you might be able to mediate between the two business parties, or see to it that the offender brings in someone else to see everything is finished properly.
That will solve the problem, and show you to be someone who cares, as well as demonstrating your networking and negotiation skills, actually enhancing your business networking skills and reputation!
If there's a service breakdown with your business and it's not too bad, you should be able to step in and correct the situation – and if you've been monitoring properly, as you ought to do, it shouldn't be too bad. It might need a little grease to oil the wheels – a word here, a word there – but by taking charge personally, it should be feasible to ensure everything starts to run smoothly again, although you might need inducements like a discount to keep the other business happy.
Again, if you supervise personally, it will show that you're good at networking, and you will be able to retrieve the situation with your reputation intact, or even (if you're lucky) improved – those skills coming in very handy.
When there are personal problems, such as an insult, it all becomes a lot trickier. If someone from your business has offended, then you can apologise personally on behalf of your business, which might do the trick, if relations are generally good and your networking skills are high. If, for some reason, the insult has come from you, recovery is a lot harder, and can only be accomplished over time, if at all.
You might also like...