Business Networking: Working a Room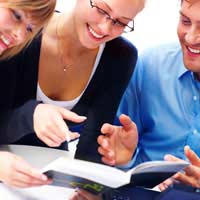 You're at a networking event, and the room is full of people as eager as you are to take advantage of the opportunity to meet others. It's impossible, in the limited time available, to exchange words with everyone. What can you do to make the most effective use of your time?
Business Cards
Business cards are a useful tool, there's no doubt about that. Exchanging cards with others is a form of introduction, one you can take away with you. The problem, of course, is that if that's all you do, then you end up with a collection of cards and no recollection of the people who gave them to you, and that's no use at all.
You need to be able to put a face to the name, and that means talking a little, plus making notes on the back of the card afterwards, just a little something to jog your memory when you're back in the office. Yes, it takes a little time, but where you've established in your mind that this could be a worthwhile contact, it's a sound investment of a minute or two.
Give out plenty of business cards, by all means, but remember that it's a scattershot tactic, a little like direct mail. The return rate from simply doing that will be very small indeed.
Intelligent Networking
Very often at an event people will offer a brief introduction to themselves and what they do before the real networking begins. Zero in on those whom you'd like to meet and make sure you do, taking a little while to chat with each one. Those should be your main targets, but use your brief time with them effectively. Introduce yourself, explain what you do, and why you believe it could be mutually worthwhile developing a business relationship.
Apart from that, use your brain. What will give the most return for your time? Obviously the more good people you talk to, the better. Where possible move from group to group, rather than buttonholing individuals. You'll soon learn to pick up cues from conversation and focus on those with whom you share common ground. Spend a few minutes talking to them, then move to a different group and do the same. You still won't cover the whole room, but you'll use your time efficiently.
Time
In gatherings like this, time is your enemy – but it's everyone else's, too. You all want to make the most of it, and the clock is ticking. That means you all have to work quickly and effectively.
Think of it as a brief sales presentation, but what you're really selling is yourself. The important points are who you are, what you and your company do, and why you believe it would be good for you and the other person to begin to build a business relationship.
There's really not much time for more than that – it's the business equivalent of speed dating, in a way – so make your case quickly and concisely. Not all contacts will be good; in fact, the majority possibly won't be. But your hit rate should be enough to make the event worthwhile.
Following Up
Working the room intelligently and making contacts is a good start, but it really is only a start. You'll need to make follow-ups, by e-mail or phone, to begin developing a working relationship with the people you've met. Do it quickly, although it hardly needs to be the same day, while it's fresh both in your mind and with the other person. It takes work, but the long-term results can be more than worth the effort.
You might also like...