Can You Make a Career as a Networking Leader?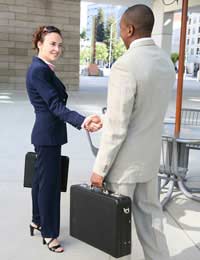 Networking can offer a good return on any investment of your time and effort. It's been embraced by business and organisations around the country and across the world as an excellent way to make contacts and increase business.
Many networking events are arranged under the auspices of chambers of commerce or similar groups, whose major aim is to spur business. They bring in speakers to give presentations on different topics. Many of those giving talks will be subject experts, possibly appearing for a small fee or just simply for the glory. There are also professional companies however, that put on regional networking events, and give talks as a business. It's perhaps taking networking to its logical conclusion when you can make a living from it – but how do you do that?
What Do You Need To Be A Professional Networking Leader?
There are no set courses you can take or qualifications you can obtain to become a networking leader, although that will almost certainly change in time. For now it's mostly a matter of experience and desire. That experience should, of course, be in attending networking events, but far more than that, in working for the groups that put them on, with additional extensive background in sales and management (a degree relevant to that would certainly be a plus). It's also vital to have a very full address book. After all, networking is all about contacts, and if you don't have them from your time spent in business and in networking, then you're certainly not going to be an effective leader. Once you've acquired all that – and it takes years, not months - and given a number of presentations that have been well received at networking events yourself, then you can begin to think about doing the job professionally.
What's Involved In Professional Networking?
Don't kid yourself that all you have to do is ride on your experience to make a good living as a networking leader. It's a hard, demanding job, and one that never stops, even on the weekends.
The bread and butter of it all comes from organising events, and that means working with companies and groups to put them on – finding venues, speakers, sending out invitations, arranging the catering, or at least delegating some of those tasks. It's not simply putting on one event then arranging another, either; you have to juggle several at the same time if you're really going to make a living. Additionally, you need feedback from the events - another form of networking - in order to make future ones even better.
That's the mechanics. On top of all that, you need to have a full repertoire of presentations relating to networking, for the events themselves and those presentations need to be top-notch, so the pressure is on. After all, as a professional networking leader, you have to be able to lead the sessions in every way.
Put all those things together, and it becomes a job for those who are really committed to striking out on their own, have a deep belief in the power of networking, and the energy to see it all through.
You might also like...