How Word-Of-Mouth Can Help Your Business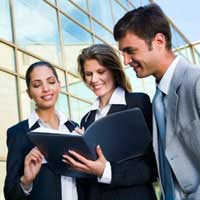 Imagine this: a client who's used your product or service is talking to a friend who owns another business. The friend says he's looking for the item you've supplied, and your client says, "Oh, I used x, he's great, you should talk to him."
That's word of mouth at its very best, where your customers are working for you. Unfortunately, in real life ideal situations come along very rarely, and your customers won't always be encountering people who are desperately in need of exactly what you can provide.
But that doesn't mean word of mouth can't work for you as a great form of business networking.
How To Make Your Customers Your Salespeople
The more your customers believe you have something special to offer, whether it's as a service, product or as a person, the more likely it is that you'll stick at the front of their mind and they'll recommend you, which will lead to increased sales.
It's networking that costs nothing, and is the most effective type, since someone objective is doing the selling for you!
First, though, you have to make those clients advocates for what you do. The way to do that is to stand out. Ideally, your product or service should be so good that they'll want to recommend it, but will it be unique? Probably not. You have to make it seem that way, by the service you offer personally, and by making your clients aware – and that means very aware – of what distinguishes you from the competition.
Take them through everything you do, with the advantages and savings of your product. Make regular follow up visits and take care to fix any problems immediately. Make phone calls and e-mails to check everything's running smoothly help – the more personal your touch, the better, as the client will remember you as much as the product or service.
Build a relationship with the client. If he moves, send flowers or a bottle of wine, for example. Do this not with just one client, but all of them. After all, the more people you have working for you, the great the number of recommendations and sales.
Getting Them To Recommend You
You've made a friend and believer of your client, which is the first step. Now you have to make him want to recommend what you can offer. How can you achieve that?
The best way is for him to truly be convinced that by recommending you he's doing a service to his colleagues and friends – and that goes back to him thinking you have something unique to offer.
It's worth pointing out – very gently and subtly, of course – that if he likes what you have, then he's actually doing other people a favour by recommending you.
It's certainly a lot better than giving them some of you business cards and asking them pass them on to people who might be interested. A verbal recommendation can work wonders. By you time you meet the potential client – who will have called you – you're already more than halfway to the sale.
But remember to treat every customer and potential customer the same way. You have to do that, and the payoff can be excellent.
You won't make a living on the business that comes in by work of mouth alone, but it can certainly add to your income.
You might also like...